Here is the Spider Assassin Droid from the Clone Wars line created in 2010. With 8 legs, 16 points of articulation, and a removable head "lid" that housed 3 baby spider droids this figure was quite the challenge. It was well worth it in the end, the final piece remains one of my favorites for overall coolness. It was also rewarding when I finally saw the Clone Wars episode it was featured in – one of the best episodes in the entire Clone Wars series so far.
Clone Wars Spider Assassin Droid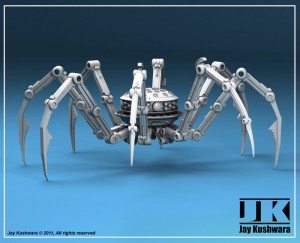 Here are photos of the final production piece, used with kind permission of Paul Harrison and Chuck Paskovics from the Jedi Temple Archives website.
Comments Off on Star Wars: Clone Wars Spider Assassin Droid Hasbro 4″ Figure
admin on July 9th 2012 in Star Wars